We are having Movie Night this Friday May 19 starting at 6:30 p.m. in the "chapel". Free snacks, drinks, delicious popcorn. It is difficult to find a movie that is good for children and adults. Click on this to learn more about the movie. If you plan to come and need a ride – and live on or near LSU campus – you must send us an email by Thursday. Pick up times are one hour earlier than for English Conversation.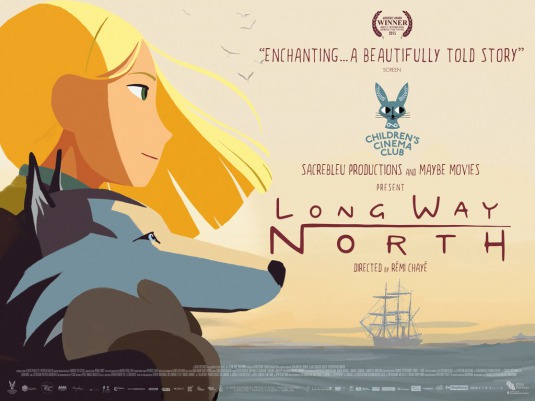 LONG WAY NORTH is set in the late 19th century Saint Petersburg. Sacha, a young girl from the Russian aristocracy, dreams of the Great North and anguishes over the fate of her grandfather, Oloukine, a renowned scientist and Arctic explorer who has yet to return from his latest expedition to conquer the North Pole. Sacha has always been fascinated by the adventurous life of her grandfather and has the same calling as Oloukine to be an explorer. But Sacha's parents, who already made arrangements for her marriage, strongly disapprove the idea to say the least. Defying her destiny, Sacha flees her home and launches an adventure-filled quest toward the Great North in search of Oloukine and his ship.
(1) We are having a Movie Night on Friday May 19.
(2) It is difficult to find movies that are good for children and adults. Some movies are too "children" and most are too "adult" (violence monsters horror and violence).
(2b) A few months ago we had a lesson about movies. And we shared the idea for an "international film festival" during the summer. Yes we know Cinemark at Perkins Rowe already does this. But how about a series of movies from other countries? that "express the culture, beliefs, and dreams of your people"? For example – if someone says "what movie from the last 10-15 years represents Nigeria / China / South Korea / Russia / Japan / Brasil / Iran / India / Mexico?" what answer might you give? We do not know if or when we will do this "film festival". However…
(3) Please share with us your ideas for Movie Night. Even share with us your ideas for a movie… from your home country… that would be a good choice for an "international film festival".